Como sabréis, ayer día de 6 de junio Nueva York, en concreto el famoso Lincoln Center's Alice Tully Hall era el lugar escogido para la entrega de los premios de mayor embergadura en el mundo de la moda. Había llegado la décima edición de los CFDA Awards, o en castellano, los Premios del Consejo de Diseñadores de América. Tal y como nos explica la web del CFDA este evento anual reconoce "
las contribuciones excepcionales a la moda americana por individuos de todas las áreas de la industria y artes, con premios que se da por la excelencia del diseño en moda femenina, moda masculina y accesorios, así como los logros extraordinarios en el periodismo, la visión creativa y su destacada trayectoria."
-Comenzamos con los verdaderos ganadores de la noche. De la mano de su presidenta la diseñadora, Diane Von
Furstenberg
, los premios CFDA Fashion es uno de los honores más codiciados que un diseñador puede recibir en la industria américana: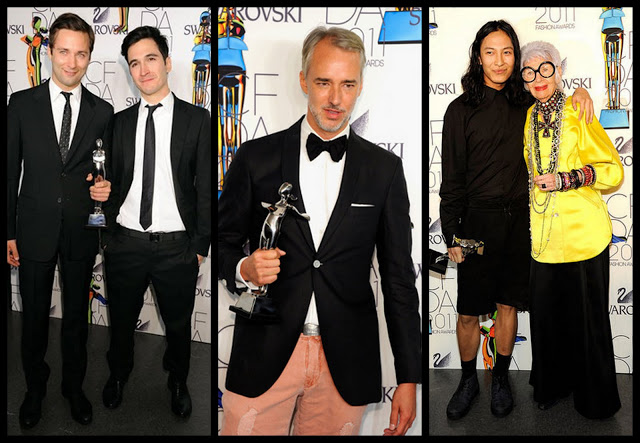 Mejor diseñador de ropa femenina:  Jack McCollough y Lázaro Hernández para Proenza Schouler
 Mejor diseñador de ropa masculina: Michael Bastian
 Mejor diseñador de complementos:  Alexander Wang
– Seguimos nuestro repaso con los premios Swarovski
establecidos en 1986 por Perry Ellis en honor a los nuevos talentos.
Con ellos se pretende reconocer la influencia de talento emergente de jóvenes promesas a la vez que también se reconoce a grandes maestros.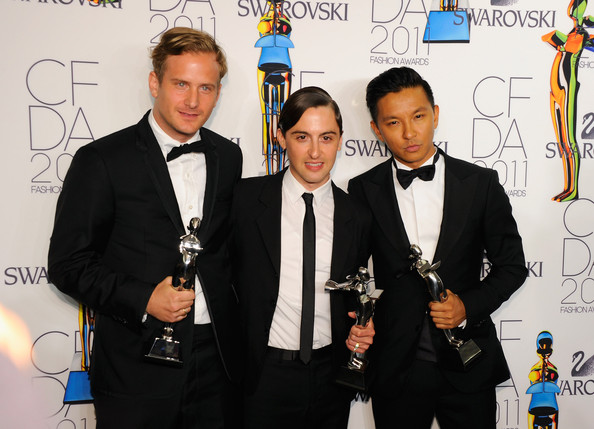 Premio Swarovski al diseño de ropa femenina: Prabal Gurung, la jóven promesa que siempre destaca por su enorme y aguda visión del diseño, volvió a sorprender con una colección f/w 2011 impecable.
Premio Swarovski al diseño de ropa masculina: Robert Geller
Premio Swarovski al diseño de accesorios: Eddie Borgo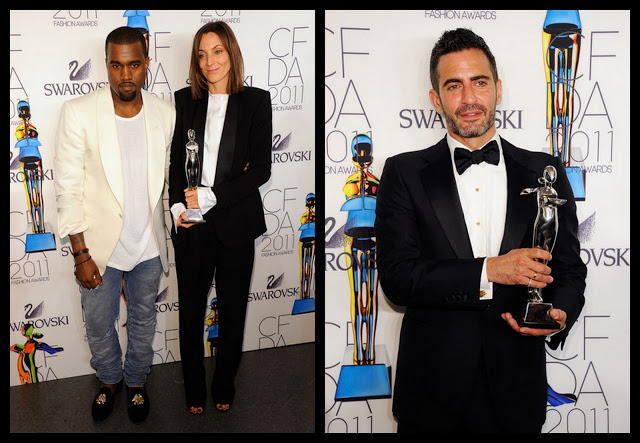 -La mención especial llegó con el Premio al diseñador internacional, Phoebe Philo, la diseñadora británica cabeza de la firma Céline. Seguido por el Premio a la trayectoria  que rinde homenaje a Geoffrey Beene fue para Marc Jacobs por su gran contribución con todas y cada una de sus marcas. Tributo especial para el fotógrafo, Arthur Elgort. Y el premio fundadores en memoria Eleanor Lambert recayó para Hal Rubenstein de InStyle. Caso aparte, el Premio al Icono Fashion de Lady Gaga.
-Mención más que especial y por mi parte, tomará el Premio de Medios de Comunicación en memoria de la escritora de moda y columnista Eugenia Sheppar, nombrada mejor escritora de moda del siglo XX quien revolucionó el mundo de la moda con su "Dentro de la moda". El premio fue para la escritora, profesora, periodista y estilista de moda, Hilary Alexander.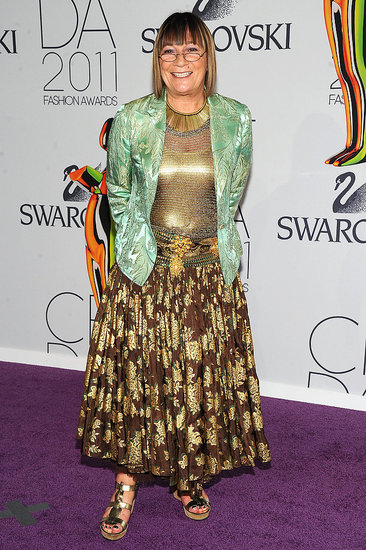 Nacida en Nueva Zelanda,  viajera apasionada y actual directora de moda de The Daily Telegraph. Una mujer que vive entorno y para la moda, tanto de periodista como de formadora. Nombrada Profesora Visitante de la Universidad de Arte de Londres, institución responsable del Central Saints Martins y del London College of Arts, fue nombrada en dos ocasiones mejor periodista de moda británica del año. Gracias a su aportación, el periodismo de moda, comenzó a ser algo más que un área sesgada de frívola, para empezar a tomar una tónica de crítica con argumentos fundamentados, incluidos y contextualizados en un tiempo y un espacio, convirtiéndolo e integrándolo en lo que hoy llamamos cultura. Aquí podéis seguir su columna en 'The Daily Telegraph'.